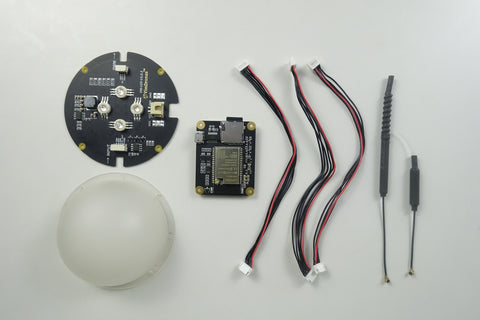 If you want to use our system with your self-built drones, this product is perfect for you. Only for pro-user. 
Vimdrones Drone Light Show Control Unit | Drone Control | LED Control
2.4G wifi
915MHz / 2.4GHz radio
12W RGB light board RGB
LED control function
Drone control function (requires ardupilot official firmware, Pixhawk series flight control)
Control Unit Board:
Dimension: 50*40*8mm
Hole position: 44*34mm M2 mount holes
Weigh: 12.8g
Interfaces: WI-FI, USB
LED Board:
Dimension: 80*80*8mm
Hole position: 52*52mm M2 mount holes
Weigh: 16.4g
LED: Integrated full-color RGB LED, 12W
LED Board Cover
Dimension: 80*80*40mm
Note:
The maximum admissible voltage of the Control Unit Board on the JST VCC pin is 5V.
The LED board could connect 2s-4s battery.
Requirements for drones:
(1)Pixhawk series flight controller (Pixhawk Drone with ardupilot firmware)

(2)Ublox RTK GPS(M8P or F9P)

Other compliments list:
(1)Vimdrones Drone Light Show Devices

Vimdrones Smart RTK Base Station




Wifi Router, 220V




Spektrum Transmitter



(2)Vimdrones Drone Light Show Designer Software

(3)Vimdrones Ground Station Software